A Conversation with Commissioner Thomas Farley
March 12, 2013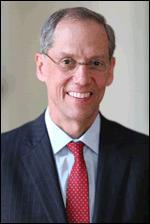 It's all in the timing. I was supposed to welcome Dr. Thomas Farley, NYC Commissioner of Health and Mental Hygiene to the City College of New York, at the end of October for the first "Conversations in Leadership" session of the fall semester.  We had planned to discuss health policy, broadly, as well as the city's efforts to combat obesity more specifically. As you know, however, Hurricane Sandy had other plans.  Dr. Farley had graciously agreed to reschedule, and we had set aside tomorrow evening for the event. Unfortunately, Dr. Farley was called away on emergency business, and the event had to be cancelled.
I'm delighted to announce that Dr. Farley has kindly rescheduled, and will be visiting City College next Tuesday evening, from 5:30-7:00pm.  It should be a very interesting conversation, especially in light of the fact that this morning a judge invalidated Mayor Bloomberg and Commissioner Farley's policy push to regulate the consumption of sugary drinks in New York City. We'll talk about this, and more.
Mayor Michael R. Bloomberg appointed Dr. Farley as Commissioner of the NYC Department of Health and Mental Hygiene in 2009.  Before joining the Agency, Dr. Farley was chair of the Department of Community Health Sciences at the Tulane University School of Public Health and Tropical Medicine. He received his MD and Master of Public Health degrees from Tulane University. Trained as a pediatrician, he served in the Centers for Disease Control's Epidemic Intelligence Service and worked for the CDC and the Louisiana Office of Public Health from 1989 to 2000. During that period he directed programs to control various infectious diseases. He has conducted research and published articles on a wide range of topics, including Legionnaires' disease, prevention of HIV/STDs, infant mortality, and obesity. Dr. Farley is coauthor with RAND Senior Scientist Deborah Cohen of Prescription for a Healthy Nation (Beacon Press). He served as Senior Adviser to New York City Health Commissioner Thomas Frieden in 2007 and 2008.
RSVPs for the discussion are required.  There are still a few seats left.  Those interested in attending can register here.